Cara Smith | Houston Business Journal
October 30, 2018
With demand for Houston industrial space heating up all over the city, it's important for tenants — and developers — to act fast in leasing or building their new industrial space.
Asking rental rates in Houston increased nearly 3 percent in the third quarter to roughly $7 per square foot, according to research from Avison Young's Houston office. This time last year, the average industrial rent rate was $6.44 per square foot, according to Avison Young. Rent rates in north Houston increased 10.5 percent last quarter and only two of Houston's seven submarkets didn't see an increase in industrial rent last quarter.
Industrial rent is the steepest in north Houston and southwest Houston, where tenants can expect to pay around $7.66 per square foot, per Avison Young's research. The southeast submarket, much of which is anchored by the Port Houston, has an average industrial rent rate of $7.28 per square foot.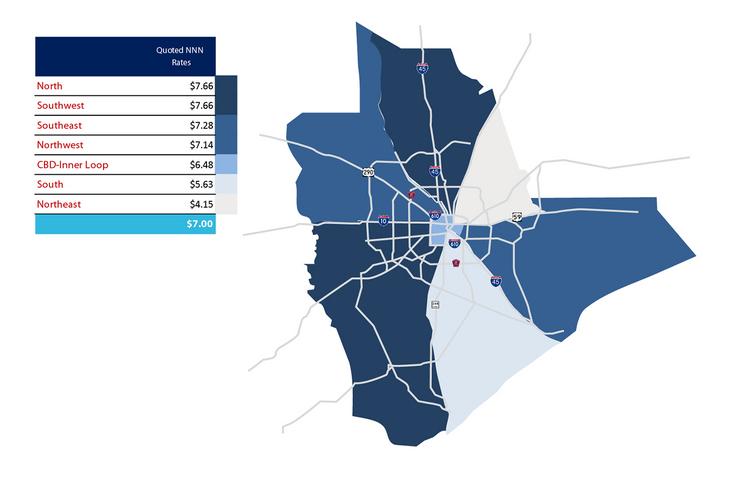 Tenants looking for favorable rent deals should eye properties in the inner Loop, south Houston and northeast Houston, though — the average rent rate for inner Loop industrial property is $6.48 per square foot, and tenants in northeast Houston are paying an average of just $4.15 per square foot, per Avison Young.
Much of the demand for industrial space in Houston has been fueled by the city's population growth, and the population's subsequent demand for same-day or next-day delivery from e-commerce retailers.
"Houston's rapidly expanding consumer base continues to expect faster delivery times, and e-commerce suppliers are responding by leasing space in newer and more efficient buildings," the report states.
Developers are taking notice of the demand. Earlier this month, Stonelake Capital Partners closed on a 238,125-square-foot industrial property at 3401 Navigation in the East End that the company is actively marketing to distribution, light manufacturing and e-commerce tenants. And Houston-based Triten Real Estate Partners broke ground on two buildings totaling more than 330,000 square feet at Bayport North Industrial Park.
In September, Houston-based Archway Properties and Atlanta-based Ridgeline Property Group were expected to break ground on a 685,400-square-foot speculative warehouse and distribution center at State Highway 59 and Will Clayton Parkway in Humble. The 685,400-square-foot building will offer 40' clear ceiling heights and is two miles away from Bush International Airport.